The Teen Peer Support Group
Teenagers healing together through their grief.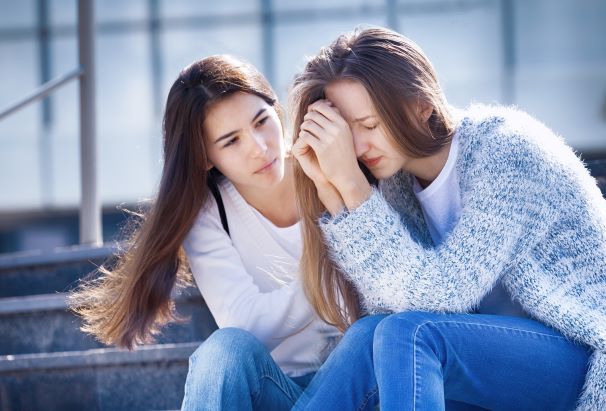 The Teen Peer Support Group brings together teenagers to heal through their grief.
Teens find great relief knowing they can share their story and their feelings with other teens in their peer group without judgment, embarrassment, or shame.  Teens experience life after loss in ways that are unique to them, and other teens in the group know what it's like.   They 'get it'.  
Experienced facilitators lead the groups and help teens learn about grief, express their own grief, and build confidence in themselves. 

Teenage years are challenging, and the Teen Peer Groups are a rare gift for teens who've experienced a loss.
Parents and Caregivers are encouraged to participate

in separate parent/caregiver sessions with the others whose teens attend the Teen's Peer Group. 
They learn together and move through their grief as a group, while better supporting their son or daughter outside of the group.  Experienced facilitators lead these sessions as parents and caregivers gain confidence to know their child is in good hands with Healing Hearts, just like they are.

Group programs are structured, reliable, and led by trained, experienced facilitators.

For over a decade, Healing Hearts has hosted and facilitated these groups for children and families.   
All group programs are FREE OF CHARGE to attendees.
Join a Support Group
For more information regarding services or if you would like to register you and your family,
please call us at

 262-751-0874
or submit an inquiry below.
Teen Peer Group Meetings ( Waukesha Location )
Monday evenings
6:00-7:30 pm
January 30 – April 24, 2023
Located at: First United Methodist Church   121 Wisconsin Ave., Waukesha 53186
_________________________________
Parent/Guardian Meetings occur simultaneously in breakout rooms
Teen Peer Group Meetings (
Oconomowoc Location )
Thursday evenings
6:00-7:30 pm
June 22 – July 27, 2023
Located at: Good Shepherd United Methodist Church 800 Lake Drive, Oconomowoc 53066
_________________________________
Parent/Guardian Meetings occur simultaneously in breakout rooms
See what Teenagers, Parents and Caregivers say about their Peer Support Groups:
"My son has a lot more confidence. 
"It's so good for these kids to not worry if they fit in."
"My daughter is more open about her feelings and what she is dealing with."
"The people here actually try to help me.  They care."


"It's a place to take these feelings in a world that usually doesn't want to hear about them."
"We find a lot of friendships and understanding here, along with learning each day."